Imagine the following situation: a potential guest visits your hotel website, gets the necessary information, falls in love with your place and is ready to reserve a room expecting a wonderful vacation but…there's no means by which they can book online. All you have is your email and phone number on the Contacts page, but the client gets discouraged by language barrier/time zone difference/phone call expenses, and you lose him. In a worse case, a customer doesn't receive a reply via email or your busy admins don't pick up the phone, and the client reserves a room in a different hotel telling friends about his regret. You lose several potential guests.
How to avoid such problems? Regardless of size, location and format, your hospitality business needs an Internet booking engine. In this guide, we will cover the nuts and bolts of online booking software and discover how it can benefit your company.
All You Need To Know About Internet Booking Engines
Before we delve deep into the functions, pros, and cons of such software, we should find out what is online booking engine, and how it works.
What is online booking system?
An internet booking platform is a product you can use for reservation arrangement. They enable hotel administrators to receive booking requests online from the web and better deal with their telephone and in-person reservations. However, this is only the tip of an iceberg.
A web booking engine enables a client to indicate their needs and requirements, for example, place of departure, destination, flight date, return date and class of travel. When this data is submitted, the IBE will offer a rundown of accessible air tickets, lodgings, and journeys which the client would then be able to book.
Thus, instead of visiting numerous travel agencies, travelers can simply visit an online booking platform and figure out a perfect option for their trip. It will already include air tickets, hotel room, and car rentals/local tours/amenities (optionally).
The genuine value of an IBE lies in the possibilities for business. Any hotelier can find an affordable package jam-packed with essential features and tools. Each IBE has its own pricing rules, customizable display for different users and channels, set of available properties, business rules, and payment gateways. The market for booking engines is present by both giants like Airbnb or Expedia, and smaller location-specific booking platforms.
How does it work?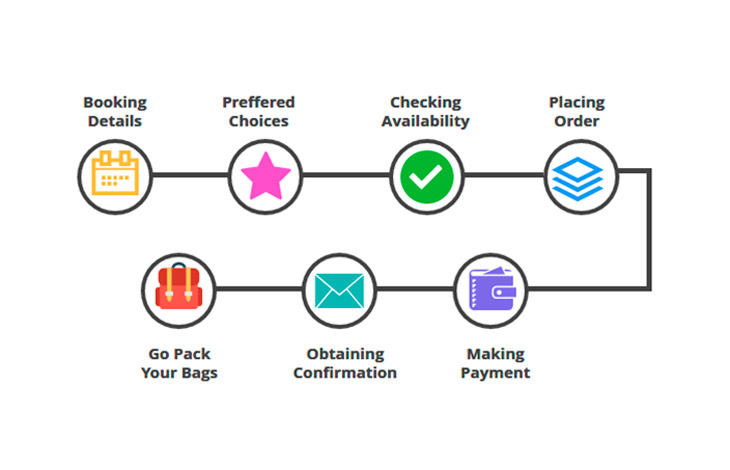 How IBS works for clients
Say, you have a hotel website and want to enable online booking by visitors from all over the world. You can simply create a booking form on your site, but the number of visitors might not be satisfying. This is where web-based reservation engines come in handy. Here's how it works:
You get connected to an IBS by registering your property.
You create and customize reservation form that must be filled and submitted by customers willing to book a room.
Once a visitor finds your property in the search results of the IBS, he submits all necessary data, pays for accommodation in advance fully or partially (it's an optional setting).
The booking is registered in IBS, and details are automatically updated across all booking channels within seconds. Any other website visitor cannot book the same room/property again.
Congratulations! You have one more happy guest served properly. Prepare your rooms for a visit!
Note that if a customer cancels the booking, this data is also automatically updated across the entire system, and the property will be available again. No need for manual corrections.
A Sneak Peek Into The History Of IBE
Before the first internet booking engine for airlines and hotels appeared, leading airlines used alternative solutions for flight ticket reservation.
At the dawn of American aviation history, there were not so many passengers and flights. While ticket fares were managed by the Civil Aeronautics Board, the information about routes and schedules could be found in the Official Airline Guide, and travel operators would reveal the information about reservations by telephone. But as the number of passengers grew, this manual system could no longer cope with the growing volume.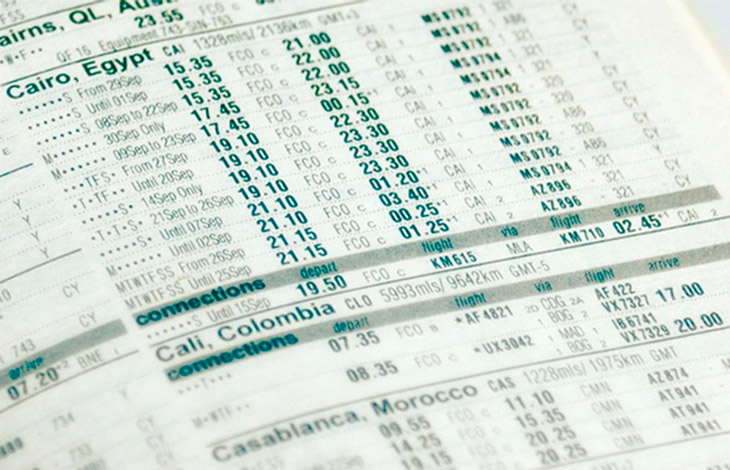 Official airline guide
Back in 1946, American Airlines was the first company to implement an automated booking framework. The device used for that included a transitory stockpiling of magnetic drums. The aircraft's administrators needed to do the genuine queries while travel operators couldn't straightforwardly inquire this framework.
After 1953, such a system was replaced by semi-automatic booking systems, and then computer reservations systems where travel agents could place queries themselves.
At the beginning of 1980s, new functions were added to CRSs, so they allowed users to book and sell tickets for various aircrafts while the prior CRSs versions could deal with just one. This is how the first prototypes of GDS appeared. Through a GDS, travel operators would obtain necessary information about numerous aircrafts. That extended booking abilities and improved information search.
However, travelers themselves required travel operator's help for making a reservation. So the carriers required an online booking framework which would enable the travelers to get data about the air schedules, reservations, and so on. That triggered the creation of IBEs: initially, they were utilized by airlines to cut expenses and introduce instant reservations and payments.
Salient Functions & Features Of Booking Engines
Every booking internet platform offers a number of awesome features which can put reservation workflow on autopilot and ease the life of hotel workers and its end users. Here is the list of basic features, which means IBS functionality includes but is not restricted by: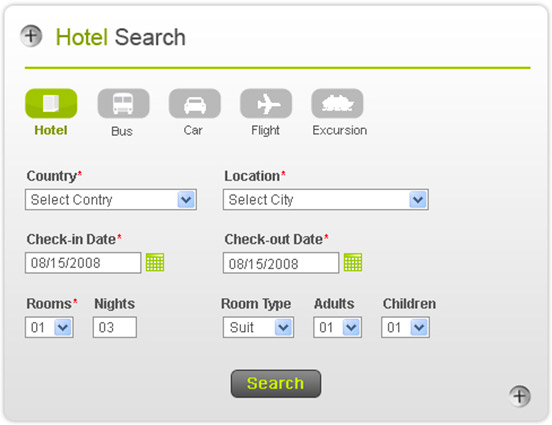 Customized forms and fields. Every hotelier can create a personalized book reservation form for customers to submit necessary information only (arrival and leaving dates, number of rooms, people in the group, extra services, etc).
Real-time update of reservation status inside the IBS and all connected channels (when a hotel works with multiple booking platforms). That eliminates double booking and makes user experience so much better.
Payment processing and generation of invoices. IBS provides connections with payment gateways that work with users' credit cards to process online payments and ease the task for the hotelier. Some of them support different currencies, others convert money automatically. Invoice and documents can be generated and sent to guests' email.
Content management. To show their property at its best, hoteliers should post the photos, videos and all important details concerning the place (location, amenities, restaurants, available services, extra costs, etc). An IBS allows publishing all the data you think is crucial for guests. Many platforms allow creating maps and photo galleries.
Notifications for both admins and customers. IBS can send automatic notifications to hoteliers when a reservation request is coming, or alert customers about upcoming trips, unpaid invoices, etc. That simplifies life for users. Messages can be sent via email or SMS or generated as push-ups in mobile apps (if an IBS has one).
In-built messengers allow property owner and customers to communicate right on the website without exchanging contacts. This is one more way to arrange vacation efficiently and get all necessary information.
Multi-language support is crucial for hotels targeting an international audience. Every more or less well-established booking engine does support several major languages. Unless you work with locals only, this feature is a must.
Extra services. Car rentals, flight tickets, local tours – these are not less important things for vacation. Give guests the opportunity to order everything in one place, and enjoy ever-lasting positive impression. They will definitely enjoy such an experience.
Benefits Of IBE For Business
Online booking meaning cannot be overestimated: it saves time for both hoteliers and their guests. However, it's not the only reason for you to consider leveraging web-based booking system in your business.
Lower commissions
With an IBE, you may remove a large number of the extra expenses or commissions that you would have using regular reservation methods. For example, when you are attempting to book people on a flight without your own web booking engine, you will need to send those clients to a corresponding website where they will be bombarded with commercials, and, probably, even commission charges. Awful user experience, isn't it?
This is significant in light of the fact that you can offer customers a better deal using your own web booking platform. No need to send them to another webpage – you can likewise use ads on your website.
Book flights throughout the day
Together with hotel booking, flight reservation on the web is crucial. Using a web booking engine with flight booking, you make vacation planning effortless for guests. They have a possibility to book a flight whenever it pleases them – that's a serious advantage for your business. Research shows that most flights are reserved after 5 pm when people are home (and travel agencies are closed) dreaming about their vacation. Thus, by offering online flight booking, you boost the chances to attract guests.
Expand effectiveness by automation
IBEs help to make profit quicker by performing less work. Many aspects of booking have become automated: request submission, data, and rates update, notifications. If you value your time, you should do your best to automate customer touch points and aspects of reservation – your admins and guests will be truly grateful for it.
Gathering of information
Your internet booking platform will probably collect all the data that you need or want from a customer. Having all the information gathered together in one spot means two things. First, you will secure a booking and keep your customers' documents on record. Secondly, the obtained data can be used for analysis and statistics – they drive business development enabling hoteliers to make informed decisions.
No overbookings
IBS excludes the danger of double bookings. Rather, it will only permit bookings if rooms are accessible. This eliminates the risk of confusion so you won't need to check timetables or booking dates – no more human errors. Moreover, a great web booking engine will instantly update a reservation status when accommodation is booked. Such an approach is important for any business that cares about customers.
Online payment processing
IBS will likewise have the option to deal with your online payments, too. It not only helps lessen the load on your employees (they won't need to work with receivables and cash them out in banks) but also makes the entire process safer. You won't have to store checks in your office – a customer using his credit card doesn't have to share extra personal data, too. Most booking systems support several currencies, so it's convenient for both hotelier and guests, no matter where they come from.
What's also incredible about online payments is that they generally incorporate a receipt. As with any ordinary exchange, your customers will get a receipt messaged to them via email, or the receipt will be shown on the installment screen once the transaction is finished. You can save it in your digital records, which will protect you in case of possible mistakes during the interaction with your client.
Are there any disadvantages?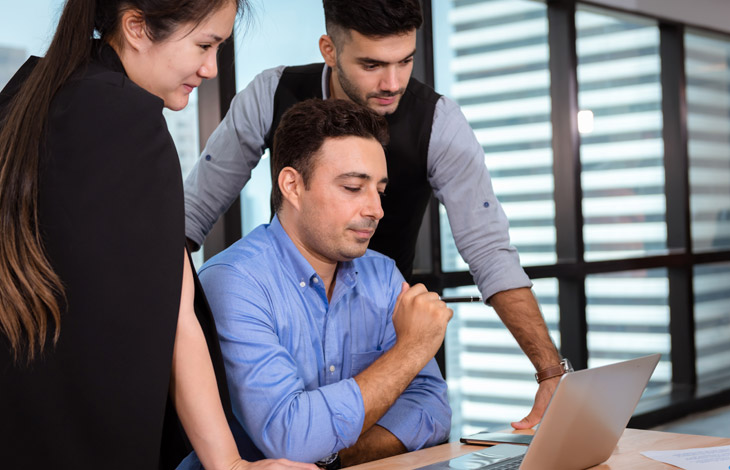 Like any other new technology, IBS might come with a steep learning curve. Once you leverage it you might expect your employees to start using it right away. However, it takes some time to understand what is what and start full-fledged use of the system. Luckily, the worthiest IBS solutions come with a myriad of training materials: FAQ page, video manuals, and so forth. Don't forget about customer support: if you have questions, the provider should reply as quickly as possible.
The second relative downside is the setup time. Some IBE take 24 hours to be up and running and come with a huge number of configuration options so your IT specialist will need some time to figure it out for you. Besides, the first few days will be spent in testing regime: you will check whether everything is working properly.
The third drawback is that many IBS charge commissions on bookings that are not always minor (around 3-10%), so consider it as an investment into the client base which is certainly bigger with IBE than without it. Is the buck worth the bang? Undoubtedly!
Final words
The Internet booking system is one of the most convenient things ever created in the industry of travel. It not only allows reserving rooms online but also simplifies the task for hotel employees performing a lion's share of manual tasks for them. The market offers boatloads of IBS for hotels of different sizes and types, so you can always find a suitable solution for your business.
Automation is the key to a successful hospitality business, so don't miss the chance to implement such technology and reap endless benefits.