Channel manager totally automates the huge scope of tasks: it not only updates the reservation details across websites, but also generates automatic notifications for guests, gathers information & statistics, and allows for more efficient rates management.
Why do hoteliers need a hotel reservation system?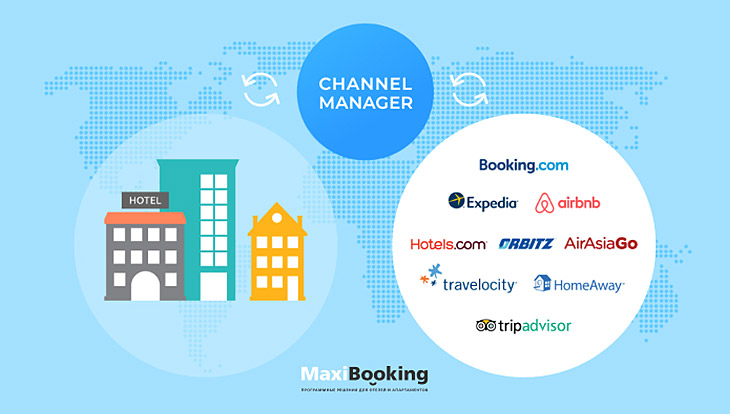 Imagine how much time and effort is required for manual registration of records: if you assign booking request processing to your administrators, they'd probably have to spend all of their time on the task. It poses the risk of overbooking and means spending a fortune on workforce. Hotel booking systems fully automate this process.
Once a guest books a hotel room on any reservation channel connected to the channel manager, the software synchronizes the information throughout the whole network. It means that availability is updated across all websites – hotelier doesn't have to do it on his own.
Thus, online reservation management system:
Automates bookings;
Updates availability on all connected websites;
Allows for booking management from a single point;
Greatly reduces the volume of manual work for booking management;
Eliminates double booking.
Most importantly, it allows your property to be present on multiple booking websites at the same time. Put simply, the more booking channels you work with, the better. It means a higher number of reservations and better sales.
No more overbooking.
One of the greatest merits of channel manager reservation booking service is the reduced probability of overbooking. What does it mean?
Imagine the situation when you have to handle booking requests manually. Two customers book the same room for the same dates on different platforms. What to do? Cancel one booking and lose clients (as well as reputation)? Double bookings can hurt your hotel's reputation and reduce profit.
With a hotel channel manager in place, you don't have to worry about it. Once someone books a room on one channel, the information about the booking is instantly updated across all websites. No one else can book a room that's just been reserved. The best part of it is absence of manual work – the system is up to the task!
Channel management with software: Easy as never before
With a channel management booking and reservation system, hotel management becomes way easier! How to organize channel management with software?
Define which channels you need. It depends on the type of your property and target audience. You own a large hotel chain and want to attract guests from all over the world? Get connected to the major reservation websites: booking.com and Expedia are essential for hoteliers and owners of several properties. On the opposite, if you own a single apartment, post a rental offer on Airbnb, and aim at the local booking services.
Find an optimal channel manager that would fit your requirements and budget. Again, it depends on the scale of your business. While some hoteliers prefer per user per month payment basis, others would benefit from one-time charge.
Integrate the chosen channel manager software into your online infrastructure, and automated reservations will be organized for you. No need to process booking requests manually!
How to find a suitable channel manager?
You want the right software for your property, but how to find a solution best suited for your business?
We recommend trying MaxiBooking hotel channel manager: it works equally great with small B&B and apartments, and large hotels and resorts. Our solution boasts fully-fledged functionality and flawlessly integrates with MaxiBooking ready-made websites, booking button, and property management system.
To take away all doubts MaxiBooking offers a free 14-day trial period for all its products! Run our channel manager for free and evaluate its numerous benefits.
Who needs a channel manager and an online room reservation system?
At first glance, it might seem that implementation of channel manager would be justified for large hotels only. However, such software brings a myriad of advantages for any hospitality business. It's worth using regardless of the size of your property, be that a small hostel, B&B, apartments, or a chain of 5-star hotels. Hotel channel manager would be useful for anyone who is renting out properties on a per day basis – you only need to figure out a suitable solution.