With digitalization ruling the world and consumers getting more Internet-savvy, having a sophisticated website is imperative for business success. A modern, compelling, interactive website is a proven way to make occasional visitors fall in love with your brand from first sight and forever.
The hospitality industry, perhaps, depends on the Internet like no one else. Hotel website design portrays the hotel in the virtual environment, as well as it helps produce the right impression on prospective clients, and ultimately, turn them into paying brand advocates.
We tried to figure out what features simple, yet selling hotel website designs must have, and we arrived at a conclusion that amazing hotel websites:
Show off the hotel. A website must tell a story of the hotel, reflect its unique elegance, and persuade an online visitor why it is a shrewd choice. As such, a well-made website must have a gallery section with large, appealing photos and videos, displaying the full glory of hotel rooms and amenities, including a restaurant, a wellness center, a conference hall, etc.
Inform customers about the nearest points of interests and leisure opportunities. Hotel web pages must emphasize the hotel's proximity to the city's attractions and showcase the hotel eagerness to organize an unforgettable sightseeing tour.
Allow online visitors to learn the prices (room availability, special offers, and packages for specific dates) and to make a reservation in a few clicks.
Offer different communication channels (including social networks) to reach out to the hotel managers and discuss any questions.
Publish real-user reviews from third-party sources to convince virtual guests that the hotel is popular and trustworthy.
Taking into account all the above, we compiled a list of the best hotel website designs 2019 from the whole web.
Four Seasons Hotels and Resorts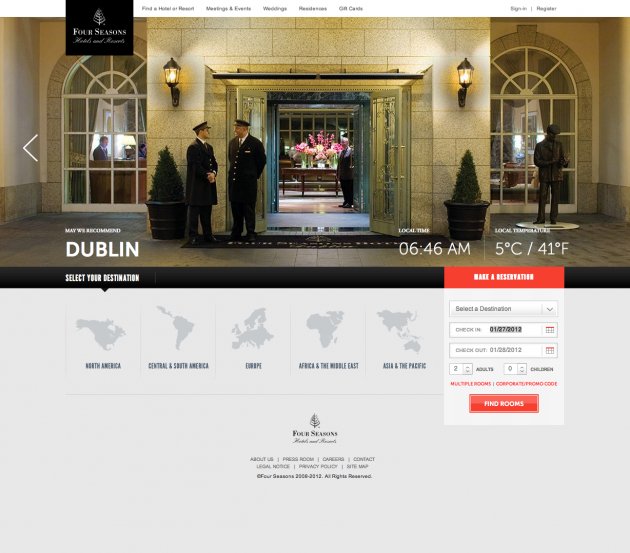 A hotel chain scattered throughout five continents, Four Seasons is the most preferred accommodation option with both vacationers and business makers from around the globe. Do you guess, why? It is made possible due to their stunning hotel website design, which is minimalistic and exquisite simultaneously. The owners definitely invested much in getting it right! Made in neutral, yet elegant colors, boasting a grandiose architecture, with all essential info in a plain view, and a portfolio replete with eye-filling photographs, their website design is a non-stop sales-generation machine.
The site opens in mere seconds; it automatically detects the type of device since the website looks great on both PC browsers and small-screen devices. By the way, the booking module works equally well on smartphones and tablets, too, allowing prospect guests to make reservations while on the go. Being mobile-friendly it is a must-have feature of a profitable hotel website design because people tend to spend less time by computers, preferring an active lifestyle! And this example apparently suits customers' needs!
Mandarin Oriental Tokyo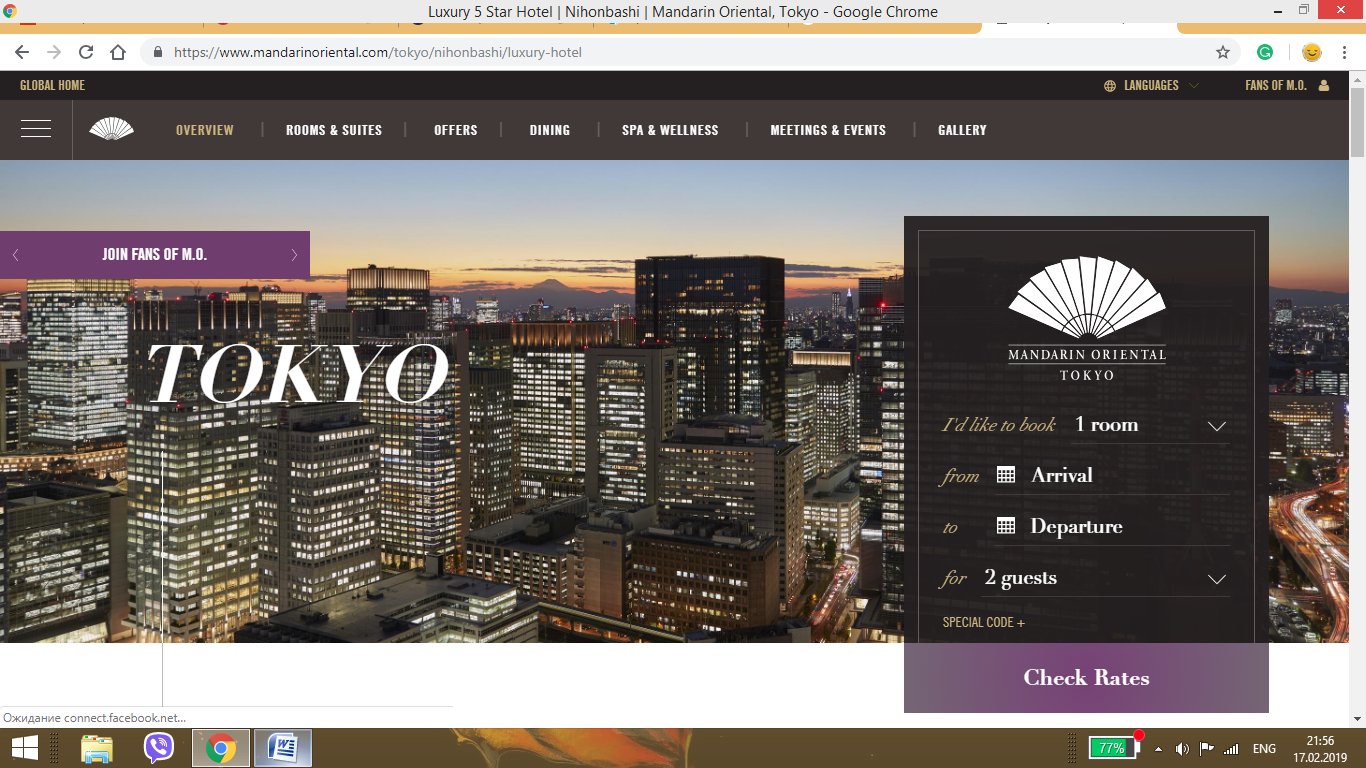 Do you want to know how a luxury hotel website design looks like? Open the Mandarin Oriental Tokyo link to get an answer. Made with excellence in mind, their web pages call to action from the first seconds. Set upon a background of night city patterns, the interface is a pleasure to navigate. The color palette is vibrant and tempts you to explore the rest of the site. Though a reservation section follows the overall website theme, it is clearly visible and responsive. A sense of luxury is achieved with the prevalence of blackish overtones married with moderate inclusions of purple and gold, which are well-known attributes of royalty.
Online visitors are trained to seek discounts, and this website design showcases lucrative offers on the homepage, which fires people's psychology and stimulates them to reap a benefit! Intuitive, confusion-free booking is possible even on mobile devices. The design also has an interactive map, proving that the property is in the epicenter of life.
Delaire Graff Estate
Leveraging the breathtaking landscapes of South Africa, this homepage entices a lead to take action for its clearness, usability, and aesthetics. Simplicity of this hotel website design is amazingly complimented with a welcome note written in elegant fonts. If you continue exploring this site, you will be awed at how clever web programmers arranged its architecture. The usage of high-quality photos and videos makes you believe you are literally walking across the hotel amenities and enjoy its gorgeousness! There are no overwhelming details, no irritating banners popping out all of a sudden. The whole website is inspiring and does bring a positive user experience.
The site is mobile-compatible and ensures easy navigation with embedded reservations. Still, it won't hurt to have a live chat or a char bot because many people are reluctant to pick up the phone and make a call – they prefer to have their problems solved without telling much. User testimonials and reward logos could help to turn even more lookers into bookers.
Gleneagles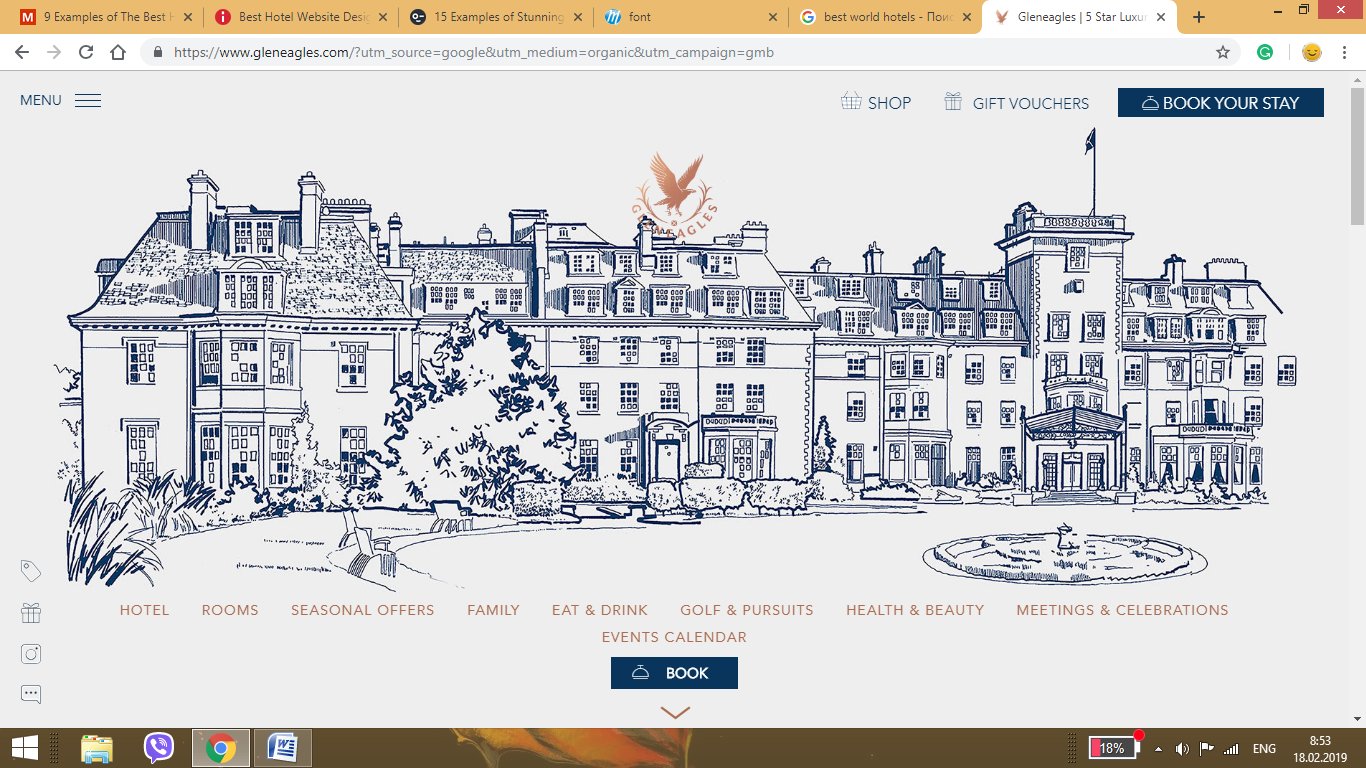 It is another award-winning hotel website proving that web designers really think out-of-the-box and move away off beaten paths. The five-star luxury of the brick-and-mortar hotel is echoed in its online version. Set upon a pencil-drawn vintage illustration background, the lobby fires curiosity in visitors, inspiring them to browse the site further. The interface is clean and catchy, the CTA position is effectively contrasted against the webpage layout. Though there is no explosion of colors, textures, and fonts, the website design is striking.
It is also an advantage to use an event calendar in the website design to highlight special activities by date.
However, specials and hotel deals section could be more eye-catching to keep lookers more stimulated while browsing.
The Lowell Hotel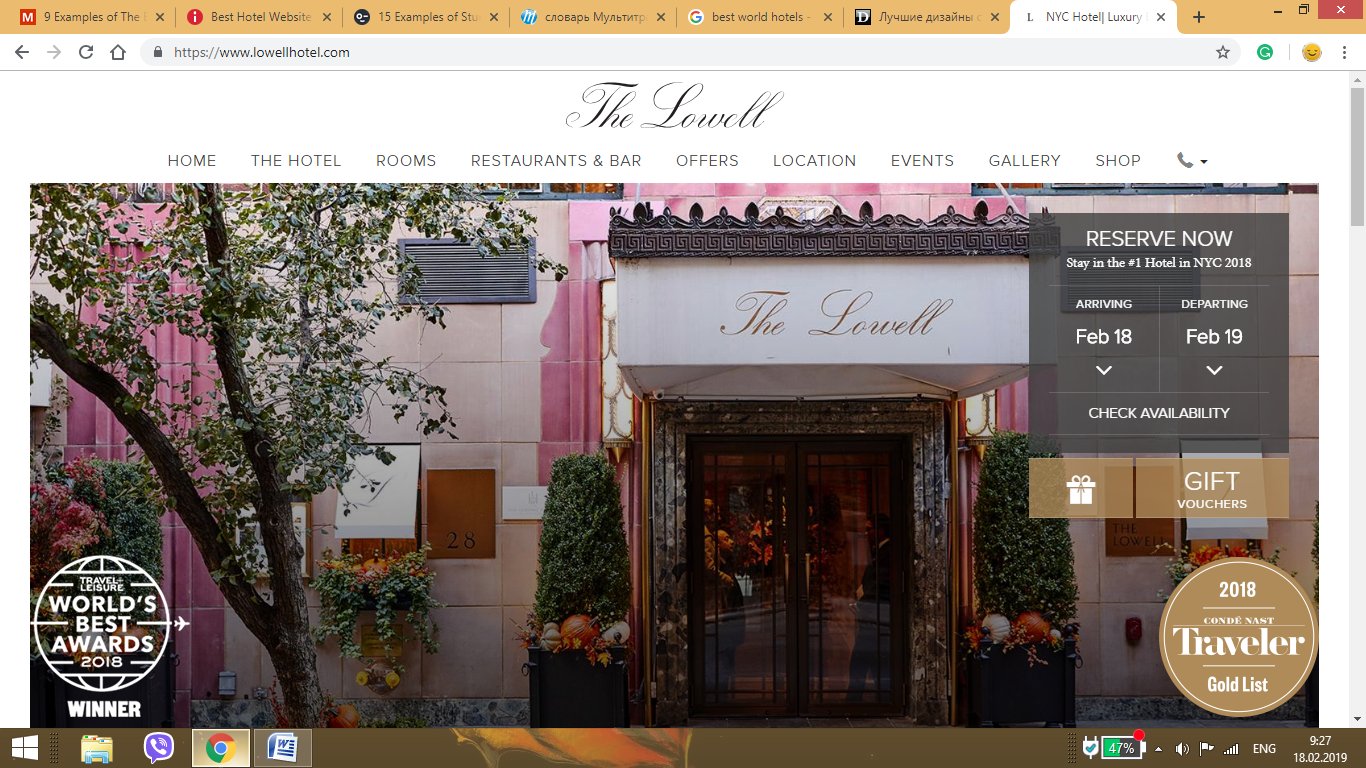 Similar hotel website design ideas never fail to impress and motivate. It is a decent example of a photography-infused design where the visual content speaks louder than words. The photos, which the web developers took, truly manifest the majesty of the hotel in the simplest way. The homepage opts for a slideshow of splendid amenities to give prospective customers a clear understanding of what is available inside and out. And placing achievement logos in the plain view ensures an instant credibility boost.
The site opens quickly; the design is responsive and the functionality is not restricted if you surf through a mobile device. Room availability check and booking can also be done in a couple of clicks even if the computer is out of the reach. The website gives a great reason to book directly with their flashy GIFT Vouchers button.
The Wauwinet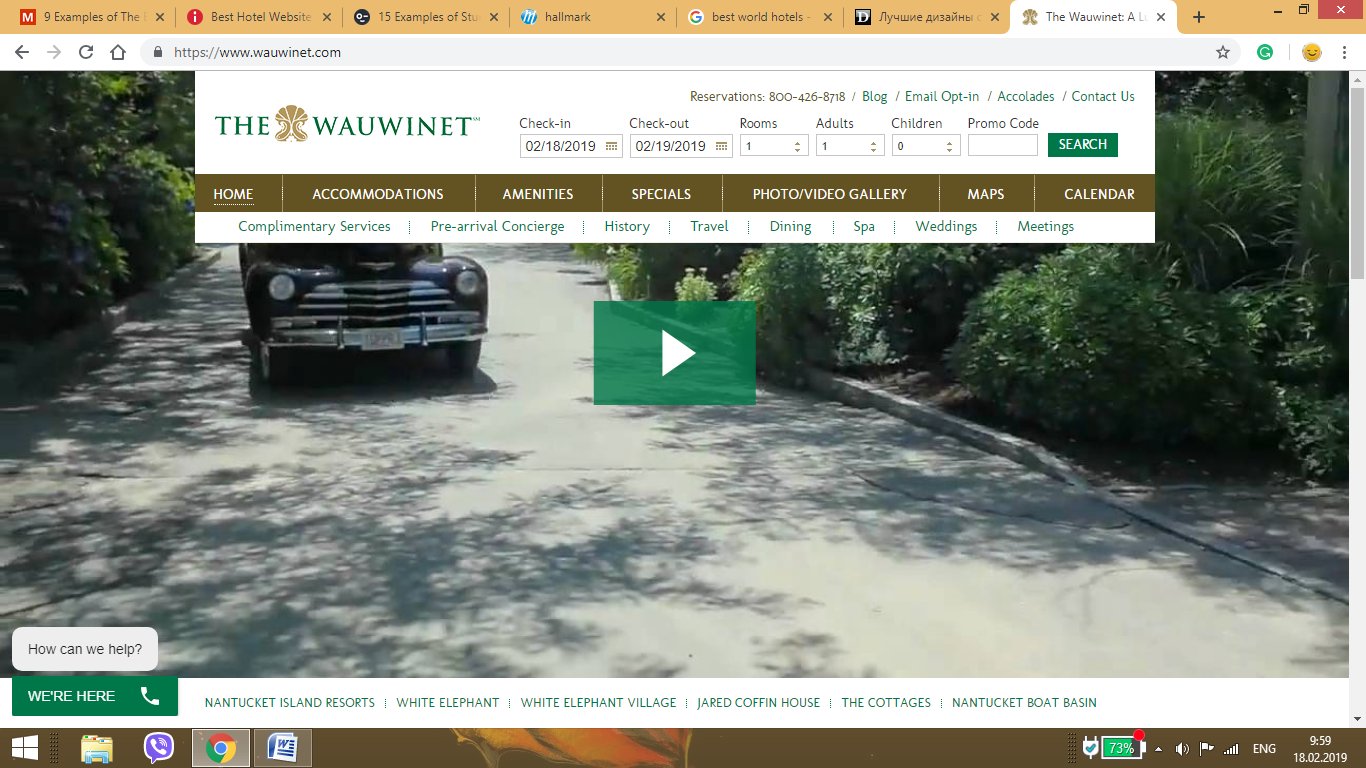 Creative hotel websites like The Wauwinet take advantage of welcoming short videos to introduce the company to online surfers and save them from a necessity to do further research across the site pages. Video is a fantastic media for storytelling, especially when a posh hotel stands by the ocean and boasts thrilling views along with other perks. Such an approach ensures an immersive user experience giving internet by-passers a thorough understanding of the hotel exquisiteness. A booking sector is emphasized against the rest layout as if prompting a visitor to act. Since the website is mobile-friendly, users can check room availability and place orders while on the move, too.
It is a really smart idea to stray away from showing empty accommodations/amenities and, instead, showing real people enjoying the experience. So, the visual content is the ally of a hotel website design. Another strong point of this site is that it has a blog, too. Generally, online surfers are looking not only for a place to rest the head at night but for the things to do in the area. An interesting blog is a fantastic way to keep prospects browsing your site.
BLACKBERRY FARM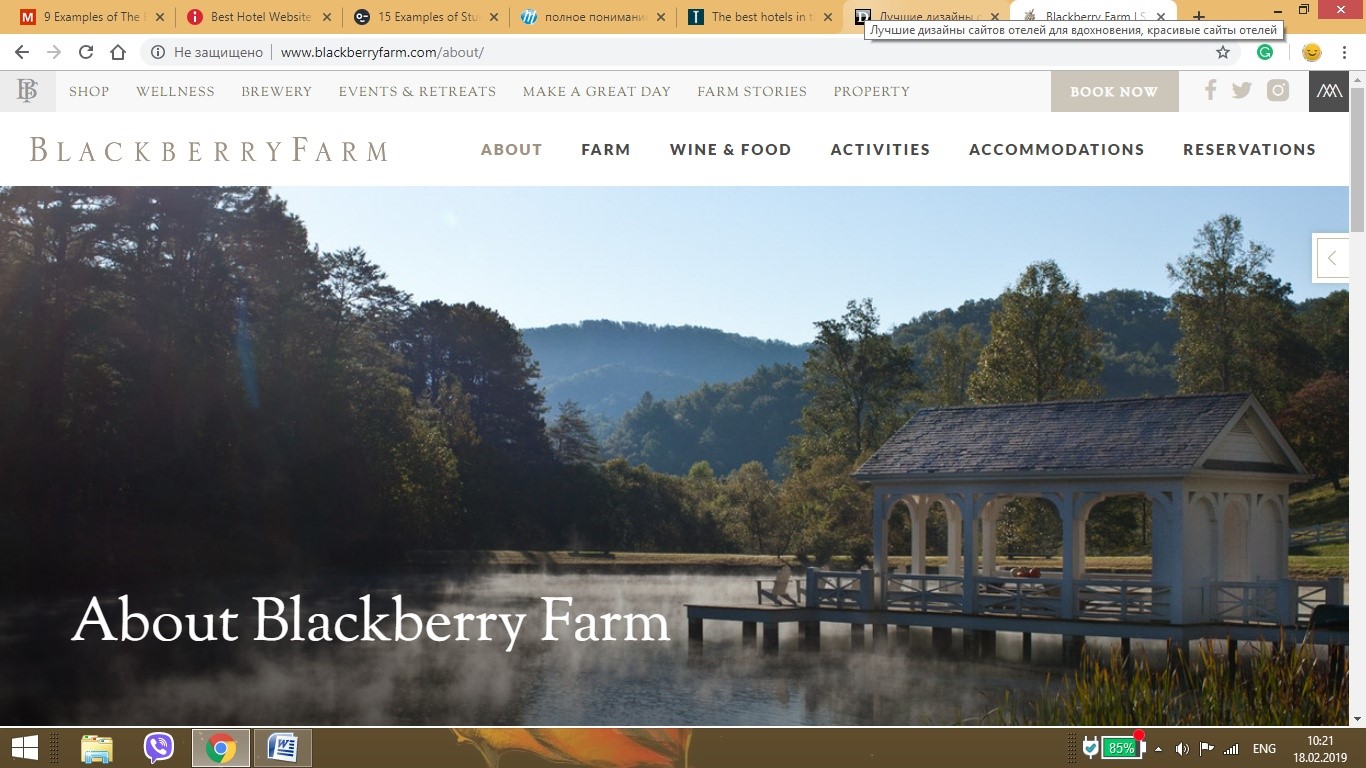 Leveraging the magnificence of the Great Smoky Mountains of south-eastern Tennessee, BLACKBERRY FARM features a luxury hotel website design where every detail is an epitome of perfection. A clearly visible booking window, large, high-resolution images, the absence of cluttered text, precise typography, and flashlight responsiveness create an excellent user experience ensuring a steady stream of online customers.
Hoteliers obviously invested much in a powerful online booking engine provides for easy booking on all kinds of devices. The design is highly responsive: it automatically adjusts to the screen size, allowing users to smoothly browse the site and book in seconds. Responsiveness is what pushes your site higher in the search rank and brings more prospects to your platform.
The website also places social media links on the homepage to create an army of followers.
RITZ PARIS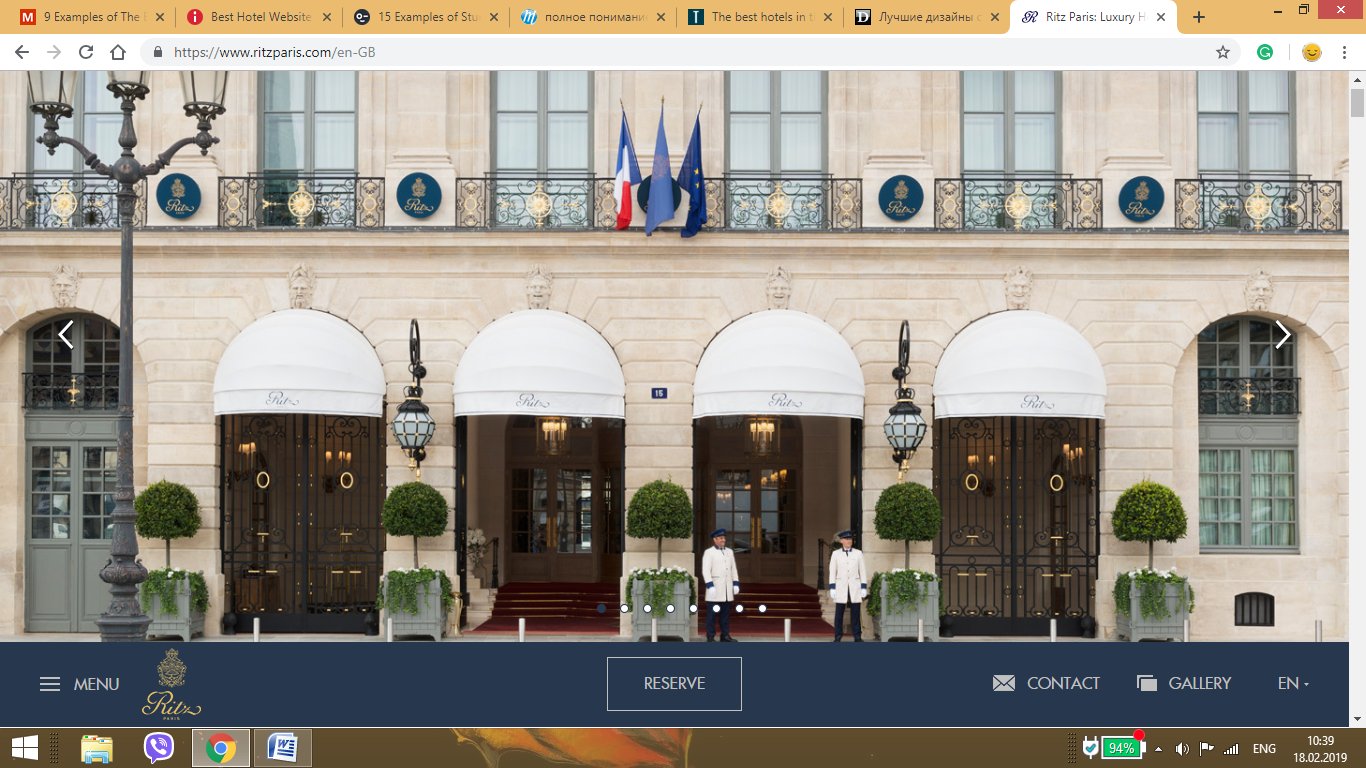 RITZ PARIS recently spent whopping €400 million on remodeling, and a solid share of this money was poured in updating their hotel website design. The result is fascinating! The homepage presents all necessary elements at once, revealing the hotel's beauties and allowing prospects to make a reservation in a couple of clicks. As you browse through the whole site, you will be amazed by how the web professionals managed to place all content in a simple and artistic way. The website showcases a carousel of fabulous photographs in its layout. A great choice of fonts adds even more royalty to an already noble and alluring design.
Thanks to web-programmers who created this masterpiece, the website is utterly mobile optimized: it instantly adjusts to the screen size and includes all the functionality of the desktop version including the site menu and the BOOK NOW option. Multi-language interface saves lookers from a necessity to translate the entire content on their own.
The website also has Google maps integration so that clients will easily find the property.
How Do Hotels Get Their Website Designs?
The best hotel website design is the one which ensures high conversion rates by making visitors spend more time exploring.
For today, there are main 4 ways to obtain a website for a hotel/resort/motel.
Ask professionals to develop a website
It is the simplest and most effective method to acquire an amazing hotel website. You appeal to a reputable web studio and tell them your demands concerning a future hotel website. You describe your ideal vision of a site, and the specialists will say how much it will cost and how long the hotel website development and launch will take.
Advantages of ordering a great hotel website at professional webmasters are obvious:
You do not have to rack your brains about how to create, implement, promote, maintain, and update your Internet site.
Since being designed by versed professionals, the website will be error-free and will work smoothly on any devices.
You will not waste your time on perfecting the hotel website design and making it more competitive.
The final result will embody your vision. If it does not, webmasters will continue improving the website design until it fully meets your expectations.
Professional website developers not only help you build a flourishing business but always provide a full range of the follow-up services, including the site maintenance, update, as well as the detection and elimination of inefficiencies.
Buy a ready-made hotel website
In this scenario, you do not have your website developed from scratch but, instead, buy an already functioning online platform. You can do so either by:
searching for an appropriate site on your own, contacting its owner, buying the site, and redesigning it at your pleasure, or
by going to special online marketplaces trading ready-made websites and picking up the one which appeals to you most.
Major drawbacks behind these methods of getting a nice hotel website design are:
You waste a lot of your precious time searching, negotiating, redesigning, and other related issues;
You need web development knowledge to remodel a website for your specific needs;
There are many scammers out there;
Your choice is limited by the selection of the ready-made sites.
However, there are some positive moments about buying an already existing hotel website. Such as the site has already been indexed by search engines, it is already functioning and has unique content. The only thing left for you is to maintain and further promote your hotel website, which is quite a challenge.
Use hosting services with inbuilt site builders
Website hosting can be free and paid.
Free hosting services generally come with site builder tools so that anyone can develop a simple hotel website design after creating an account on such a hosting platform. The service will provide you with a re-configured hotel website template which you then stuff with your texts, images, and other elements.
The greatest (and sole) advantage of such site builders is that they are free of charge.
But their disadvantages are extensive:
The limited capacity of free hosting services. They offer minimum space on the server's hard disk and minimum ram memory, while they do not afford an opportunity to connect databases and own scripts, etc. In other words, the performance of a hotel website developed on the base of such a service will be very restricted.
Unwanted advertisements. Practically all free website hosting services add their own ads to their users' sites. And these ads are displayed at the website foreground. You will have to pay a fortune to remove these annoying ads from your hotel website design.
Hackneyed website designs. Free hosting platforms provide a very limited number of website templates to choose from. It means that you will not be able to develop a unique hotel website design if you utilize a free site builder. Surely, you still can customize it somehow, provided you have a knack for web programming.
Free hosting platforms are not responsible for your hotel website. If something happens to your site, it will be a non-recoverable loss. Free hosting services generally do not come with backup systems, meaning, the safety and performance of your hotel website are always compromised.
Paid web hosting services also come with site builder tools but their functionality is much broader. The key advantage of such platforms is that they provide unlimited technical capabilities in creating a great hotel website design.
Still, you will have to do everything on your own, wasting time and efforts on learning the basics of web programming and building the site the way you envision it, not to mention the time which you will spend on detecting and correcting the errors in a case your hotel website does not work or lags.
Develop a hotel website design by yourself from scratch
This method allows you totally free rein in developing one-of-a-kind hotel website design. Your site can look and function as you like, anywhere! No restrictions, everything is in your hands and under your control! It is the major plus of this approach.
But there are some drawbacks, too:
It is time and effort-consuming;
You need to have a good command of web programming languages;
You need to learn how to maintain, update, and refine your site afterward;
Promoting and advertising your hotel website will be quite a baffling problem if you are not very good at online marketing science.
Apparently, only highly-qualified web developers can engineer an admirable and durable hotel website that will attract prospects and retain existing clients, thus helping a brand to strengthen their positions at the market and multiply profits.