Planning a vacation? Then you need to start with a hotel – that's one of the most crucial points in any travel. Where to find a suitable option? Of course, you should use the best hotel booking engine. The Internet offers boatloads of variants, and selection of a booking solution might be confusing. This ultimate guide is here for you to make an informed decision.
Before we start, let's debug one myth: the more popular a booking engine is, the better. Although such industry giants as booking.com and Expedia provide a rich selection of properties, they might be inferior to region-specific web hotel booking engines and websites that provide additional services (car renting, activities booking, etc).
There's no one-size-fits-all best online booking engine – different users have different needs. However, there are some features that every self-respecting hotel booking engine should possess.
What to search for in a hotel booking engine?
In order to select the best hotel online booking system, you should pay attention to the following criteria:
Search & filers. Sticky search widgets can be very useful: they will remain at the header of the page to give you a chance to enter requirements. You can figure out the best location and worthy deals in a jiffy.

What makes finding your optimal spot simpler is a rich number of channels. With the best booking engine, you can determine every single detail that you need including your budget plan, type of facilities, number of stars, sort of lodging (hotel, hostel, apartments, resorts, and so on) and get the appropriate results dependent on your choice.

Search via maps. Google and Booking.com enable guests to look for hotels right through the map. The map demonstrates all the accessible hotels in the zone. So the guests can simply specify the destination and zoom in/out to discover all the accessible spots.
Online bookings. After you pick an area using the filters and get the rundown of all the accessible inns, resorts, motels, etc, you need to make a reservation. Of course, all the top hotel booking engines allow doing that right on the website – there's no need to visit the hotel website to book a room.
The mobile app. For the individuals want to make an appointment on the go, the best hotel booking engines like Booking.com offer mobile applications. It allows their clients to book accommodation anytime and anywhere. Aside from it, with some mobile applications, the user can plan their activities and rent cars.
User-friendly interface. This point is especially important for novices: user interface should be clean and intuitive for a website visitor to feel free finding a suitable location. The best hotel booking engine should simplify the user's life instead of complicating the process of reservation!
All things considered, we move to the reviews of Top-10 great reservation websites to find the best hotel booking system for you.
Top-8 best hotel booking engine options
To make our reviews, we analyzed popular hotel booking engines from different standpoints – choice of channels and hotels, reward systems, types of properties, search filters, and user interface. In this Top-8, you will read about the worthiest variants for searching budget and luxury accommodation in all parts of the world.
1. Orbitz –Great for ordering the whole package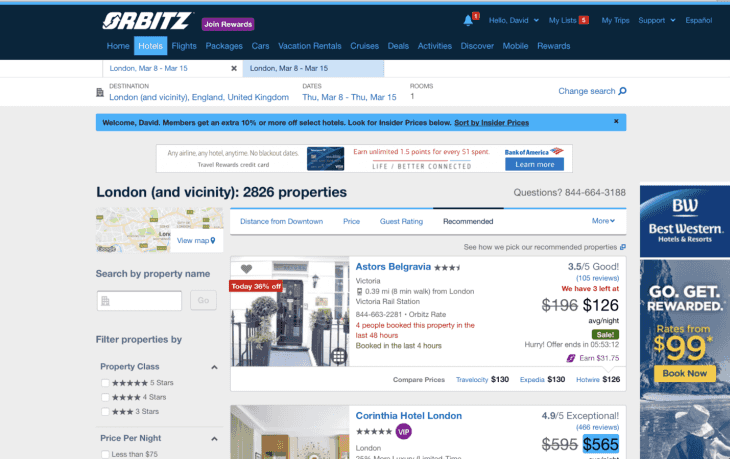 Arranging the whole vacation can be a tiresome and complicated process, but Orbitz gives you the opportunity to order your flight, inn and rental vehicle at one time. Bought altogether, these services will be cheaper than if ordered separately. Such an approach gives you a chance to enjoy a discount on rooms or rental vehicles.
As a rule, booking all your travel points together can spare you much money. However, when we performed hotel booking engine comparison we've revealed one serious downside. Most of the inns incorporated into these bundles are more expensive than budget facilities we found when searching for hotels without anyone else.
Orbitz offers a reward program that enables you to earn Orbucks – points that can be exchanged for hotels and other perks. 1 Orbuck is given for every $1 spent. There are no power blackout dates, and by registering you'll additionally enjoy special prices for clients and access to customer support service.
There are three levels in the reward program. To be qualified for Gold status you have to live in a hotel for at least four days every year (that gives you such perks as free wi-fi, morning meals or some other services at the discretion of the hotel). Platinum status requires at least 12 nights spent in hotels every year, and it delivers all the advantages of the lower levels aside from checked-bag reimbursements.
Pros
Discounts for package bookings;
3-tier reward program;
points for every dollar spent.
Cons
No notifications about price changes;
Budget hotels are rarely included;
Displays suits you cannot book.
2. Hotels.com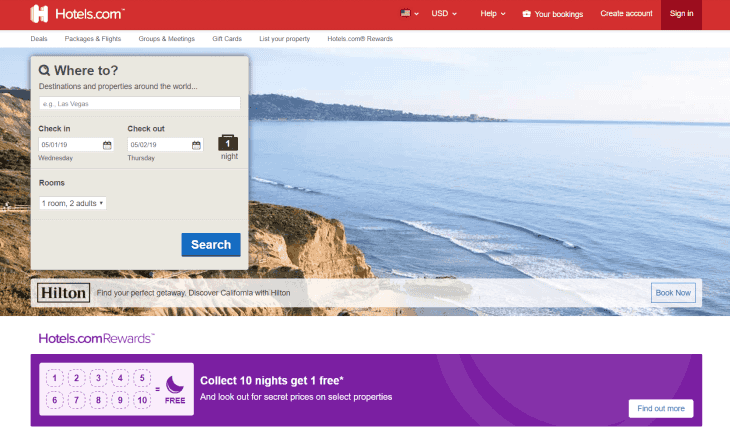 Hotels.com is our top pick for the best lodging booking websites, with a cool reward program and surprisingly moderate prices. We discovered facilities for as low as $19: Hotels.com offers hostels and B&B places, which always goes for minimal costs. Families and couples can find properties for as low as $50. Just like with other top booking engines, the best offers are accessible for a short term only – first come first served!
In case you're reserving in advance, you can sign up for updates if the price of your reservation changes on the dates you've chosen – that's a helpful feature that numerous other booking services don't offer. Hotels.com likewise provides cost matching. In case you've discovered a cheaper option, Hotels.com will repay you the difference or offer you a coupon.
Hotels.com additionally offers a reward program. The best thing about it is that you get a free night after booking 10 nights through Hotels.com. You don't need to book them in one travel; each time you book through Hotels.com, they're added up. You'll also get personalized offers and other discounts.
Pros
Users get 1 free night for every 10 nights reserved;
Notifies about price change;
Price matching.
Cons
No car rental;
Booked flights don't bring any reward;
Prices should be verified for matching to be approved.
3. HotelsCombined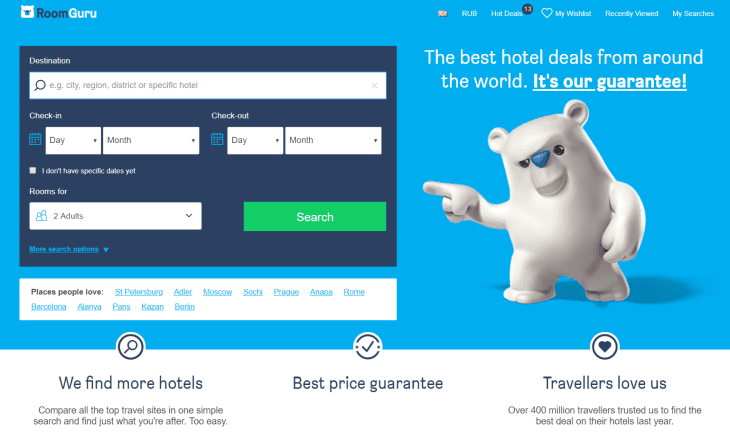 There's no need to search through numerous third-party booking engines when you have all offers present in one place. HotelsCombined is a metasearch instrument that offers a wide scope of booking websites, including OTAs and hotel websites. The results will include various choices from one hotel reservation system, enabling you to compare various room types (for example, a single room or family suite). You can likewise compare prices with or without taxes.
HotelsCombined provides a wide choice of airport hotels which can be included in the final price instead of the popular nightly rate. It makes the process of budget planning simpler. The overall volume of results makes HotelsCombined a great place for organizing your whole trip.
Another competitive advantage of HotelsCombined is responsive customer support. If you have some issues with booking, feel free to contact their assistants – they are likely to solve your problem in a timely manner. But, please, note that if a third-party property provider turns out to be a scam, HotelsCombined doesn't bear responsibility for that. A lot of customers faced price inconsistency and frauds using this engine.
Pros
A wide choice of channels;
Shows price with and without taxes;
Convenient interface.
Cons
Some hotel booking websites appear to be frauds.
4. Travelocity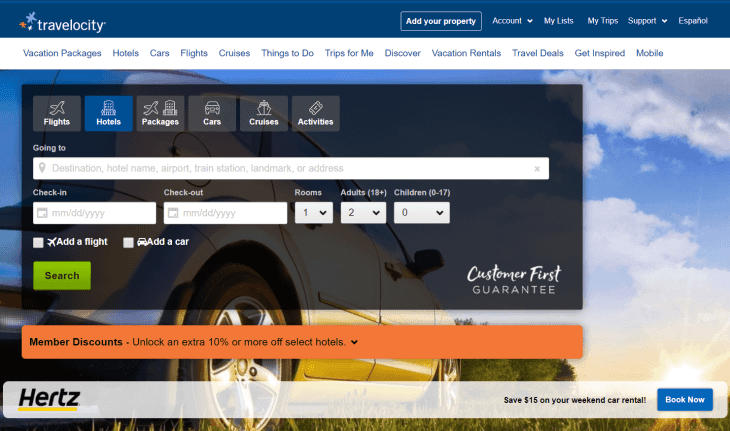 No matter which region you select, Travelocity will give you the maximum amount of variants available. In our test, it even discovered alternatives none of the other booking websites included. For solo travelers, Travelocity offers backpacker hotels and hostels, which comes at minimal costs. You can find very cheap variants on Travelocity, for example, a $60 hotel in New York City. The main disadvantage of this website is that doesn't have a reward program, so it may not be the best choice for regular travelers.
So far, if you need the cheapest hotel booking engine, Travelocity is a great option. Aside from reserving inns, you can likewise book flights and rental vehicles. Travelocity expands its features by offering cruise booking and tickets to sightseeing and tours in the region you're heading out to. In case you don't know what's accessible in the territory, Travelocity has a section where it provides tour suggestions.
Booking a hotel/flight/vehicle combo is a no-brainer. You choose the room first, then the flight and in conclusion the car. You'll see the cost at each stage and can adjust the options when necessary. Reserving these altogether can help you save a pretty nice sum. Please, mind that package booking doesn't cover extra fees, such as airline luggage.
Unfortunately, Travelocity doesn't feature any reward program, so it's not an ideal hotel search engine for frequent users.
Pros
Package booking saves money;
Huge choice of locations including cheap properties;
Car & flight booking.
Cons
No reward program;
Not many extra option
5. Virtuoso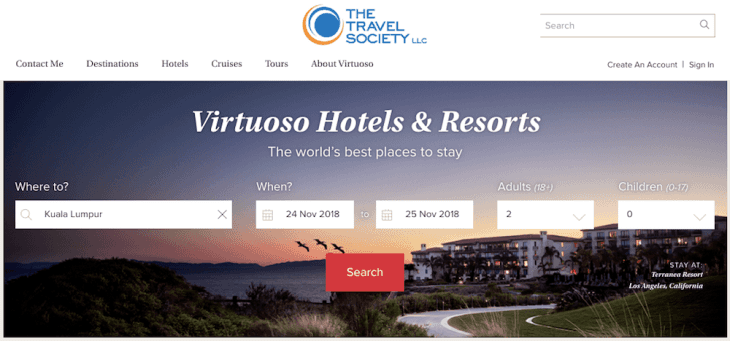 Virtuoso is one of the hotel booking engine providers for discerning travelers who need a luxury place to stay in. It's a popular network of travel counselors that comprises over 9,000 travel specialists and is being used in over 26 countries. When you book your vacation with Virtuoso, most likely, you will be in touch with a Virtuoso travel operator, so there's no need to make the booking on the web yourself. There's a bunch of Virtuoso travel organizations offering hotel search tools. Pay particular attention to New York-based Classic Travel, which has a superb site and delivers excellent service.
The main reason to book a stay through a Virtuoso travel operator is access to special perks and VIP privileges, for example, room update, free meals, spa procedures or extravagant travel experiences. You pay exactly the same sum you would by booking straightforwardly on the hotel site, yet you have the additional advantages.
Virtuoso partners with the world's most high-end hotels and resorts, the greater part of them belong to famous inn brands, for example, Soneva, Four Seasons, Rosewood, and so on.
Pros
Excellent choice of luxury properties;
Reservations are made by a travel operator;
Free perks and benefits are provided.
Cons
No loyalty program;
Cheap hotels and rooms aren't offered;
No price match, which means you can find a cheaper variant somewhere else.
6. Trivago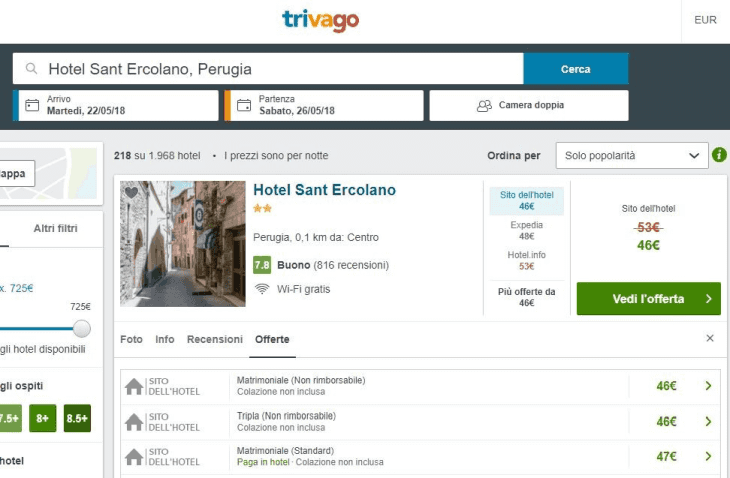 Our list of hotel booking engines wouldn't be full without Trivago, a hotel aggregator with a user-friendly UI that allows you to compare hotel prices from several websites. The issue with Trivago is that the variety of sites that it chooses does not include every price in the Net. It likewise does not consider personal offers and discounts, for example, cash back or loyalty bonuses, despite the fact that it claims to provide cost rates from 250 sites.
Thus, traveling with Trivago it isn't necessarily cheaper. There are millions of users due to the fact that Trivago is heavily advertised, but its algorithm doesn't always offer the least expensive hotel cost. All things considered, Trivago is great to use for price comparison and getting a general understanding of accommodation in certain properties. After making research, you can proceed to another website to reserve the preferable property.
One of Trivago's advantages is that it draws results from some less popular websites, for instance, Agoda. This best deal searcher also boasts a minimalistic convenient interface, so it's great for novices.
Pros
Ideal for comparing prices;
Clean convenient interface;
Wide choice of booking websites including less popular options.
Cons
Prices shown are not always the cheapest ones;
Does not include personal offers and discounts when showing prices.
7. Priceline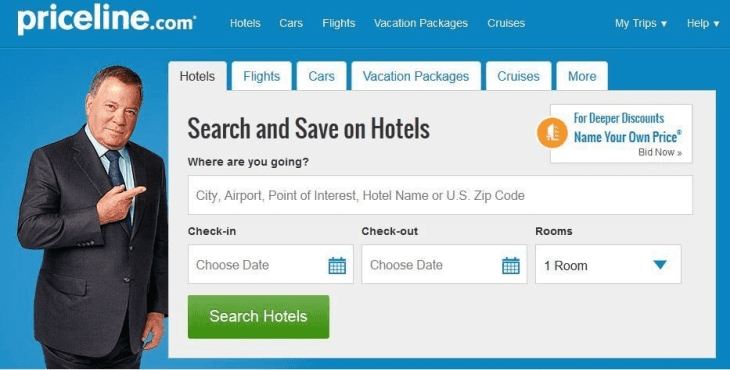 Like Hotwire, Priceline has a 'blind booking' feature, which means you can save some 18-60% on accommodation – you aren't shown the name of the inn until you have paid, just the information of the area you're remaining in, and the star rating of the place. This might be a great tool for spontaneous travelers who want to save on their trips. There's also a 'Name Your Price' option – you can submit your own price, and a hotel might accept it from you.
There's one strong advantage of Priceline other top hotel reservation systems don't possess: this is one the best platforms for finding agreeable accommodation in city centers. It puts a focus on downtown and tourist-friendly areas. Priceline also allows users to find cruises – another rare feature.
As for usability, Priceline is on par with other industry hotel booking giants: it has a simple, straightforward interface with a great design. Generally, users love this website.
Pros
You can save 18-60% with the blind booking tool;
Cruise search;
A lot of options available.
Cons
No accommodation type filter;
So-so option for finding the lowest cost;
With Express Deals, you don't know the hotel you're staying in. If you refuse, you won't be refunded fully.
8. Expedia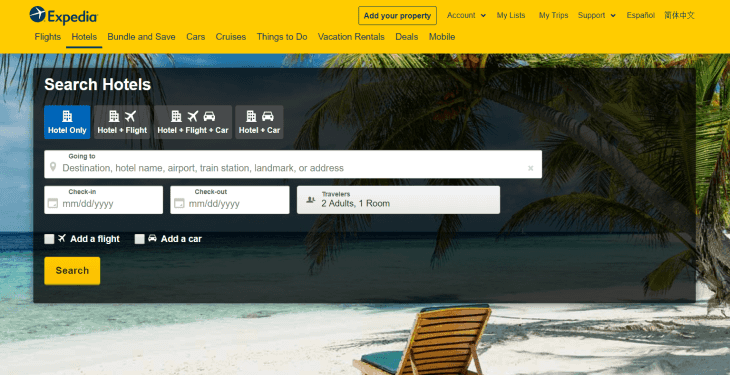 While it shows similar list items as Travelocity.com and Orbtiz.com, Expedia doesn't pick up the cheapest or worst prices – they are average. So, what makes Expedia a superb hotel booking engine? Expedia boasts a great loyalty scheme. You get 1 point for each £1 you pay for your stay, for flight and hotel bundles you get 2 points, which can be traded for cash back.
The rate isn't very beneficial, so you won't get much back. For instance, £700 spent on vacation means only £5 cashback which is not really justified. Their reward system divides into levels (blue, silver and gold), and you advance through the status level depending on expenses and points. Thus, the more you spend, the more you receive.
Pros
Great reward program – you earn points for every stay;
Various reward levels;
No blackout dates.
Cons
No price matching;
No tool for comparing prices;
Might show room rates that aren't suitable for you.
Alternative options
If none of the hotel booking engines complies with your requirements and demands, try the following options:
Hotwire.com;
Amex Finest Hotels & Resorts;
Club1Hotels;
Agoda.com;
GetCheapHotels;
OneTravel.com.
Bottom line
So, what's the best online hotel booking engine? There's no single question to this answer – it depends on many things including the region of destination, your budget, type of properties, extra amenities you need, and so on.
If you're a spontaneous traveler who wants to save money on trips, choose Hotwire.com or Priceline. HotelsCombined will also display you a huge number of available facilities. Orbitz is a great platform for ordering the entire package: hotel, flight, and rental car. Want to stay in luxury hotels? Then pay attention to the Virtuoso platform that provides travel operators' help together with a decent choice of extravagant resorts.